Where can I get the photo and contact details of a visitor?
Do you want to know the details of any visitor?

Please follow the below steps to meet your requirement:

Login to ADDA>> Admin>> ADDA Gatekeeper >> Incident Investigator>>Submit the password that you use for login>>Select the Date>> Select the required flat/category if any>> Fetch Result>> Click on View against the visitor.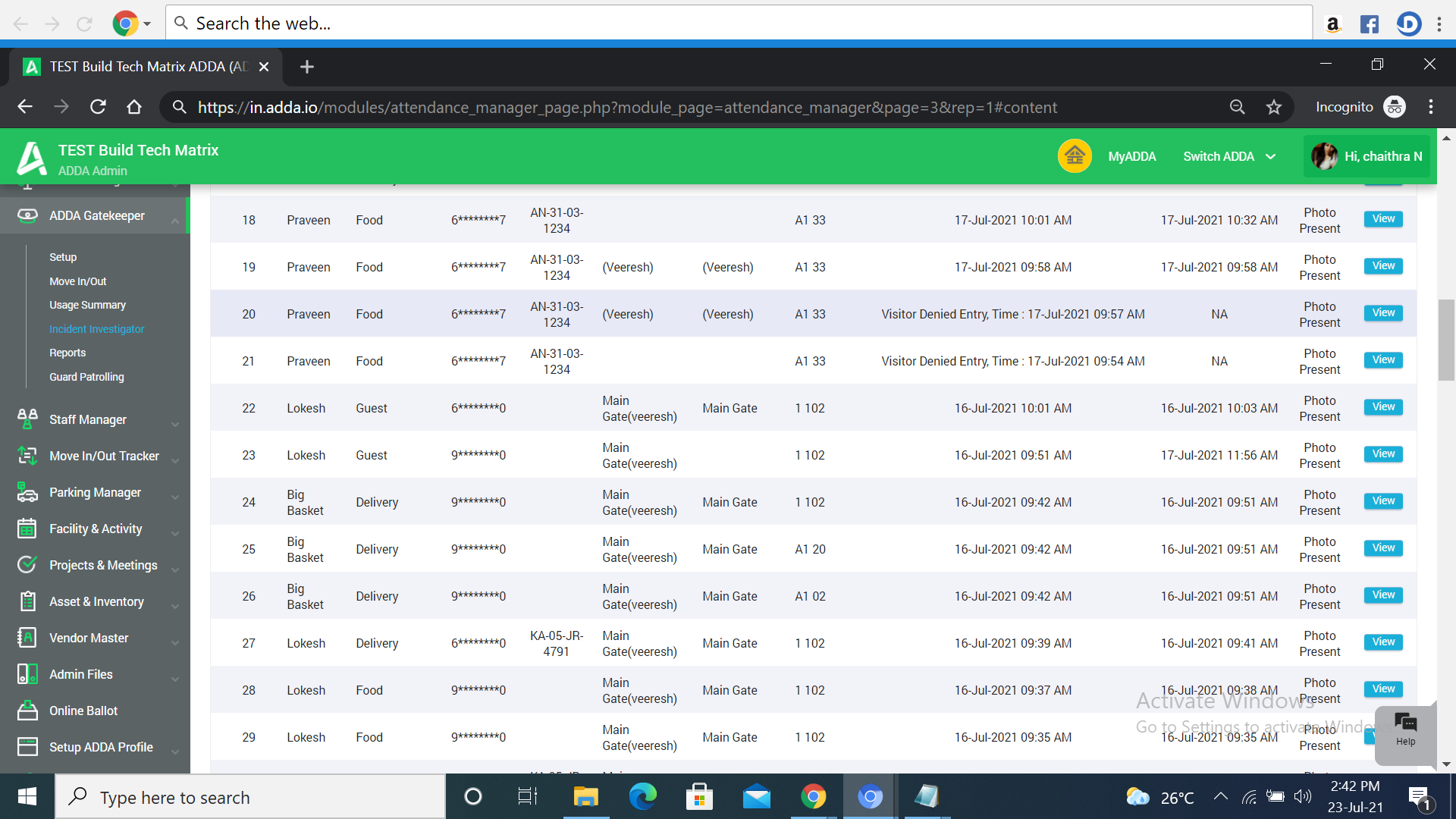 Related Articles

How can an Admin edit the User contact details?

Please follow the steps below to edit the User contact details: Login to ADDA >> Admin >> Units & Users >> Approved Users >> Search the User >>Select Unit Member and click on the drop down>>Click on the three horizontal lines next to the user ...

Why does ADDA App ask permission to access Photo gallery, SMS etc?

The ADDA App has features like ability to add expected visitors, members to your apartment or villa, emergency contacts, etc. For these you can add contacts from your contact list. App only asks from these access when you are going to use these ...

How to report missing visitor entry?

To report wrong visitor entry,please follow the below steps: Login to your ADDA App>>My Unit>>Visitors>>Select the tab for "Visitors">>Select the tab for My Visitors>>Click on the yellow flag on the right hand side below>>Enter the Visitor ...

How to get the report of visitors for more than 90 days?

In Incident Investigator you will get the visitor details up to the last 90 days. If you want the visitor details for more than 90 days you can get these details by following the below steps: Login to ADDA>> Admin>> ADDA Gatekeeper>>Reports>>Report ...

As an admin how to upload the photo of domestic staff?

Please follow the steps below to upload the photo of domestic staff: Admin >> Staff Manager >> Active >> click on the more details of the staff you wish to update the photo >> Edit >> Upload the photo >> Save