I am a user of ADDA associated with multiple accounts on your platform, how can I access them? How does the switch option work on ADDA App?
If you are part of multiple communities using ADDA, you can access all of them with the
same Email ID
, just through a quick switch.It is called the
Single Sign-on feature
, which ADDA supports.
To access multiple ADDA with the Single Sign-on, please follow the below steps:
Step 1: Login to ADDA Portal -->> MyADDA.
Step 2: Click on Switch ADDA.
​
Step 3: You will find ADDA's in which you are registered with Email ID (Same as the one used for login) and also select the ones you wish to switch.
The Option to switch between ADDA's is also available on the
ADDA App
.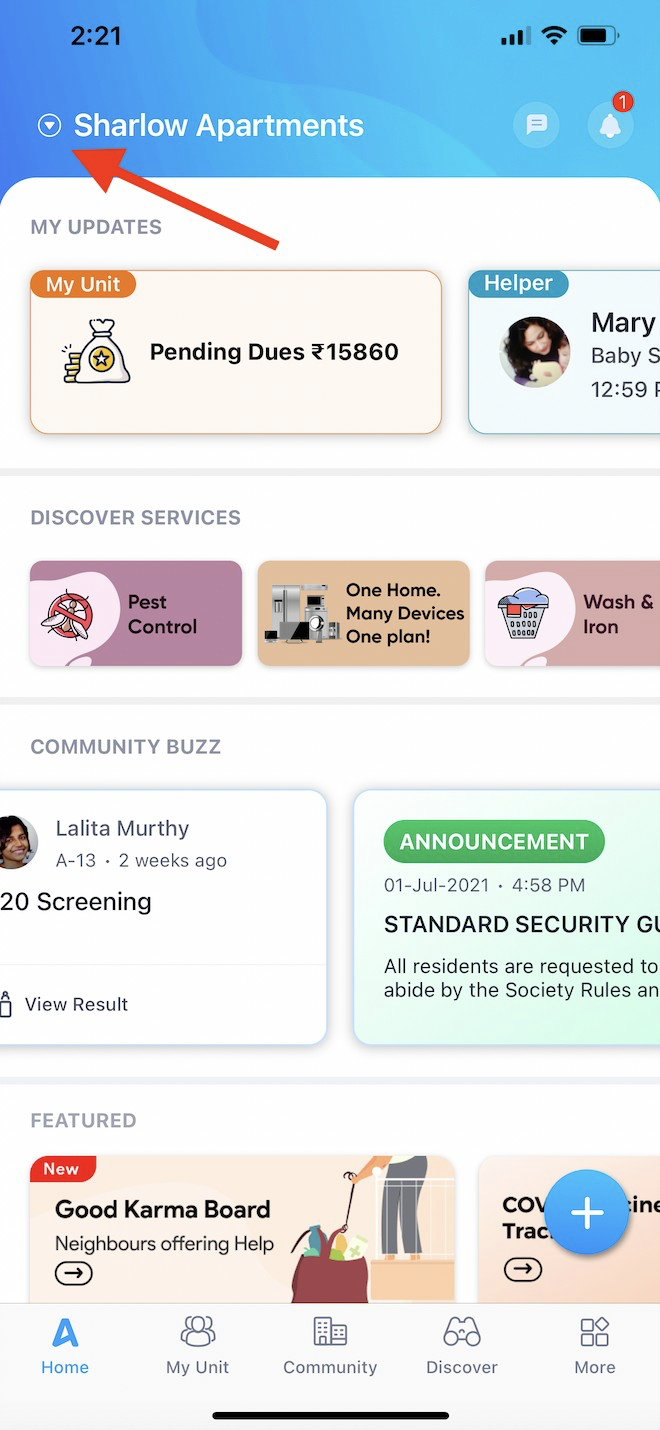 Related Articles

How to switch between multiple units in the same apartment using ADDA App?

If you are registered with multiple units in the same community you can switch between them by following the below steps : Login to ADDA -> Click on "My Unit" -> Click on your unit number below the "My Unit" label -> Drop down appears with unit ...

Why does ADDA App ask permission to access Photo gallery, SMS etc?

The ADDA App has features like ability to add expected visitors, members to your apartment or villa, emergency contacts, etc. For these you can add contacts from your contact list. App only asks from these access when you are going to use these ...

I am already a registered user of an ADDA and how to join another ADDA?

If you are a registered user of any ADDA and you wish to join another community using ADDA, You can follow the below procedure for joining the other Society ADDA. Login to ADDA App -> On the Home Page you will find a small drop down next to your ADDA ...

Can we switch between ADDA premium packages?

Yes. ADDA has 3 pricing packages: Silver, Gold, Platinum. You can switch between these packages and, we will assist you with the same. If you are downgrading to a lower package (Example: From Platinum to Silver), you will be provided a time-bound ...

If I am an admin of more than one apartment community, can I switch using between them using the ADDA Admin App?

Yes, if you are member of the Management Committee for more than one apartment community then you can switch between those accounts to view the daily insights of your community. Click on the drop down as marked in the below screenshot to switch ...