How to setup all deliveries to be left at the gate?
Do you want to mark all the deliveries to be left at the gate, and don't want the residents to get an approval request for the same.
Login to ADDA >> Admin>>ADDA GateKeeper>> Setup>>Under GateKeeper app settings>> In the list of setting you can find an option "
Allow all Deliveries to be Left at Gate" >> Select the check box against this option and save.
This will allow only the deliveries ( except food) to be kept at the gate. If you want to allow even the food deliveries to be kept at the gate select the option "Allow all Food Deliveries to be Kept at Gate" and save.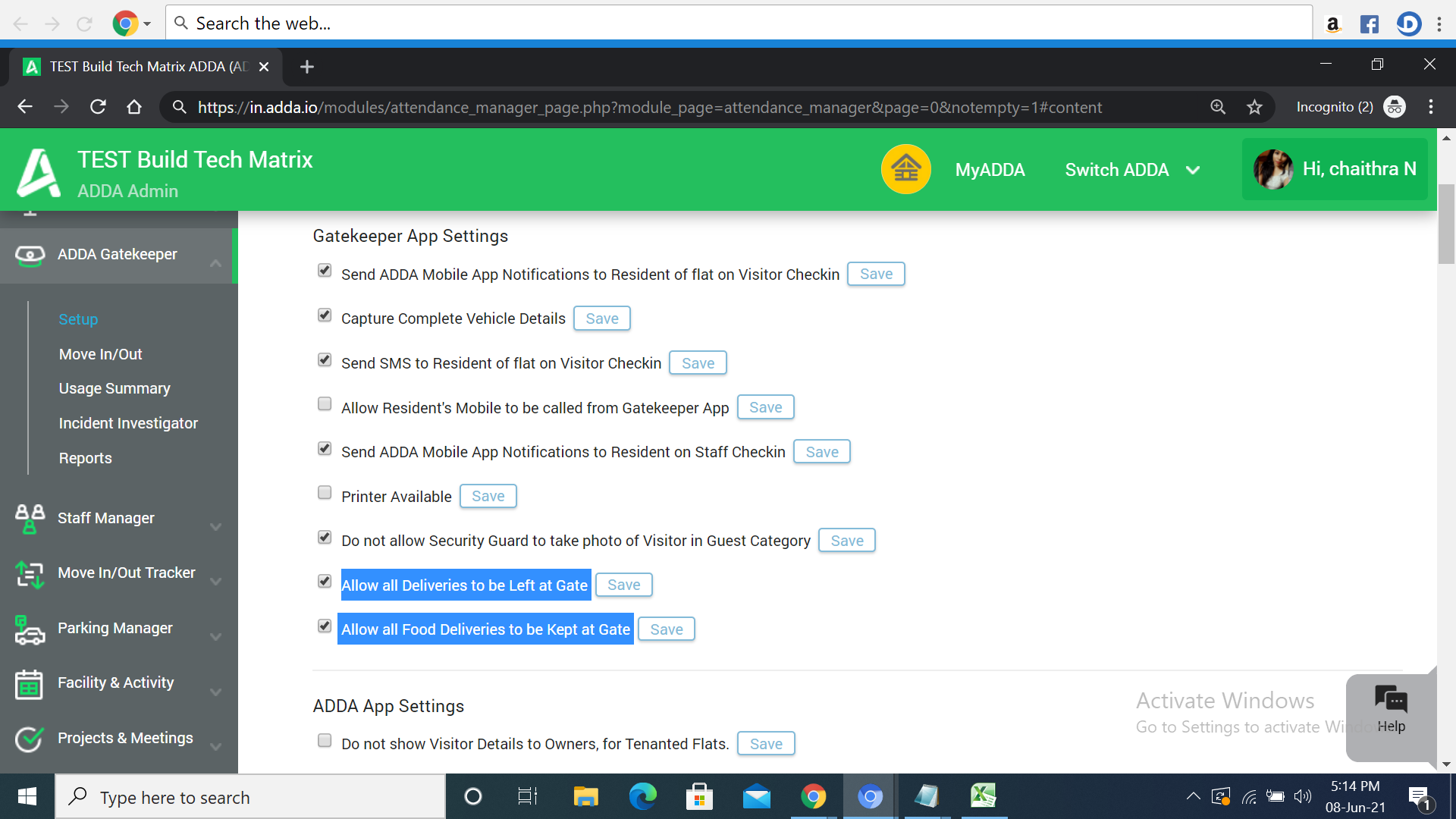 If these options are enabled, the residents will not receive the Visitor notification for approval on their ADDA app, instead, they get a popup notification that their parcel has been left at the gate, so that they can collect it whenever required.
Related Articles

How to configure Gate Broadcasts?

Need to Notify Residents on a Vendor entering the Community to provide Essential Supplies? or Need to Broadcast an Important Message from the Gate? Here is your Savior for all the important Broadcasts from your Gate, "Gate Broadcasts". Please follow ...

How is the Setup ADDA Profile used?

Every ADDA has a public-facing Website showing its Location, Amenities and Contact detail. The landing page also has a "Join" link where residents can Join their ADDA by updating the details. This website can be customized by Admin through the 'Setup ...

How to setup the office staff notifications?

Please follow the steps below to setup office staff notifications: Admin >> ADDA Gatekeeper >> Setup >> Under Setup Office Staff Notifications enable/disable the check box against the staff >> Save.

How can Admin setup Activity on ADDA?

Configure Activity: This feature can be used to showcase all the activities like classes or festival events happening in your complex with the residents. Admin can set up both Regular or One-time activities and the residents can have a quick look at ...

How can Admin setup facility on ADDA?

The facility can be the services/benefits availed by the residents by booking them in advance. Facilities can be your Apartment complex's Clubhouse, Function Hall, Swimming Pool, TT court, Gym, etc. To set up the facilities: Step 1: Login to ADDA ...