How to send a invite to user to login?
You can send the invitation email to a particular user which contains User Id & Temporary Password :
Step 1: Go to Admin >> Units & Users >> Approved Users.
Step 2:
Search
for the user >> Click on the user name >> On right hand Side, click on & the user will be listed, Click
Re-invite.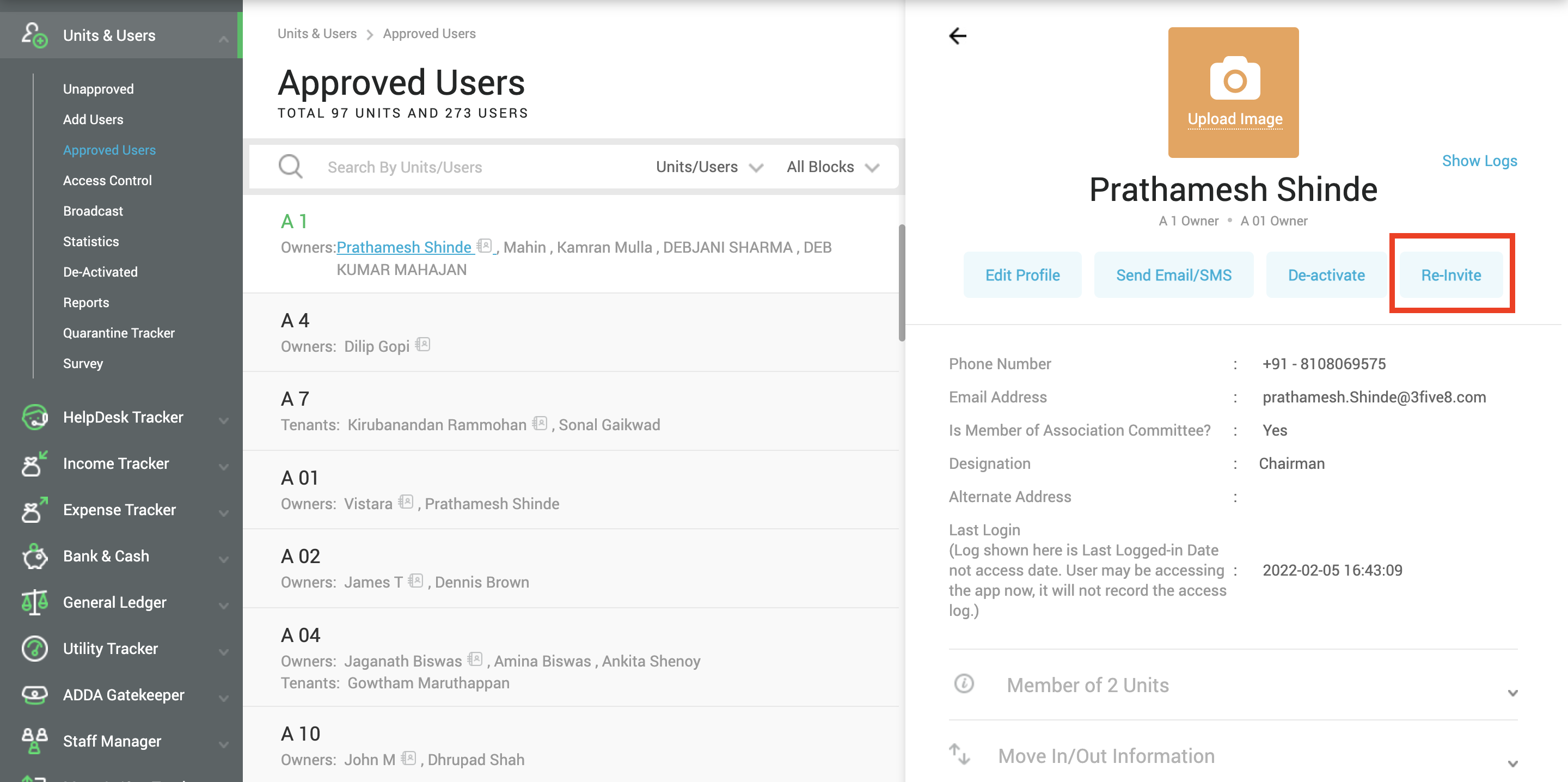 Related Articles

How to send Email or SMS to the specific user?

If you wish to send a communication to a specific user, please follow the steps below: Step 1: Login to ADDA >> Admin >> Units & Users >> Approved Users. Step 2: Find the user and click on the user name >> On the right hand side, click on 'Send ...

How can I send Email/Call to a selected user using ADDA Admin App?

Login to ADDA Admin App -->> Go to "Users" Tab -->> Active -->> Search & click on the user whose details you wish to send Email or Call -->> You will find buttons for sending email/call under Contact details section.

How can I change my password using the ADDA Portal?

Please follow the below steps to change the password: Step 1: Log in to your ADDA Portal i.e MyADDA. Step 2: On MyADDA, you will find your < Name > on the top-right corner of the page. Step 3: Upon clicking on your< Name>, you will find the option: ...

How can an Admin bulk invite users on ADDA? What are its benefits?

The "Bulk Invite" option will trigger an email to users who have not yet logged into your ADDA. The email will contain the email id and temporary password of the respective user to log in to ADDA. This option will help you increase the usage of the ...

How to send App Notification/Flash?

App Notifications/Flash messages are promptly delivered to users with the ADDA App, appearing as instant notifications on their mobile devices. Additionally, when users log into the ADDA portal, these messages are displayed as flash notifications. ...