How to process/monitor activity enrollments?
Please follow the below steps to process any Activity enrollments:
Step 1: To track/process the activities, Login to ADDA Portal >>Facility & Activity >>Activity.

Step 2: Select the Activity in the drop-down and click Get Members.


Step 3: Here you can track the "
Members Attending
" & "
Members Maybe Attending
" for the activities.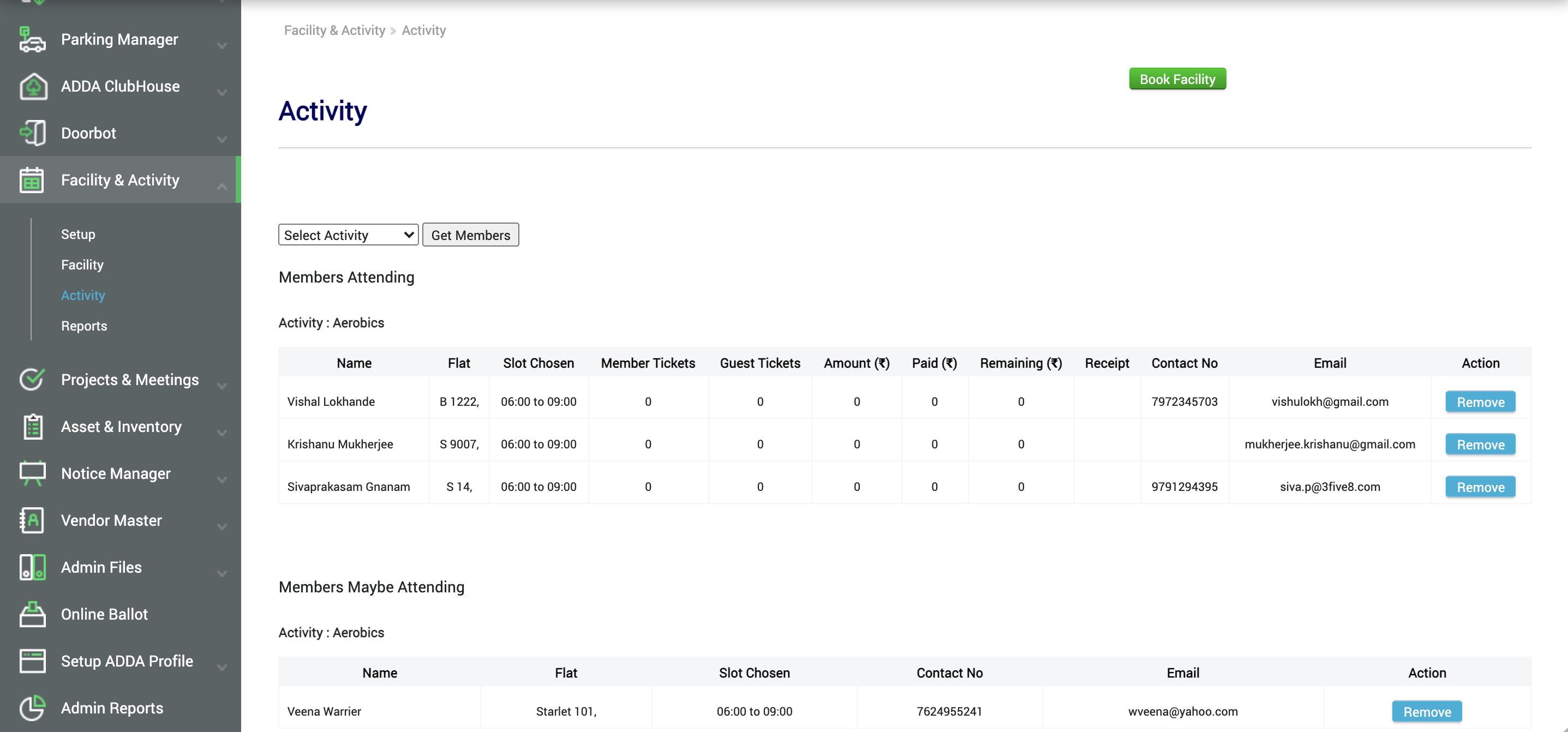 You can process the activity accordingly!
Related Articles

How to monitor facility bookings?

Admin(who have access to Activities & Facilities Tracker) will get an email notification while a facility is booked. To track & approve the booking, Login to ADDA Portal >>Facility & activity >> Facility >> Facility Bookings >> Select Facility and ...

How can Admins configure Facility and Activity for their residents on ADDA?

I) Configure Facility The facility can be the services/benefits availed by the residents by booking them in advance. Facilities can be your Apartment complex's Clubhouse, Function Hall, Swimming Pool, TT court, Gym, etc. Step 1: Login to ADDA Portal ...

How can admin process a helpdesk ticket?

Helpdesk Tickets needs to be processed in order to ensure that your resident is updated about all the latest updates on their issue. Follow the below steps to process a helpdesk ticket: Step 1. After logging in, Go to Admin>> HelpDesk Tracker>> Open ...

Admin Features

1. Unit & Users: The central database of Owners, Tenants & Office Staff. Approve awaiting approval users Add new users View/ edit/ deactivate user database Setup access for Management Committee and Office staff. Send Invites to Residents Send ...

How can we set up a Vaccination Drive for different Vaccines in our Apartment Complex?

Go to ADDA Admin > Facility & Activity > Setup > Click on Add Vaccine drive 2. In case you want to set up a vaccination drive for different vaccines, you can set up a new facility name – Covishield Dose-1 OR Covishield Dose-2. Now, Residents can ...