How to post Journal Entries?
Log in to ADDA -->> Admin Dashboard -->>
General Ledger -->> Journal Entries -->> Enter the details of the Journal Entry like the Debit Amount, Credit Amount, Select the GL Account, Journal Date, etc-->> Click on Submit.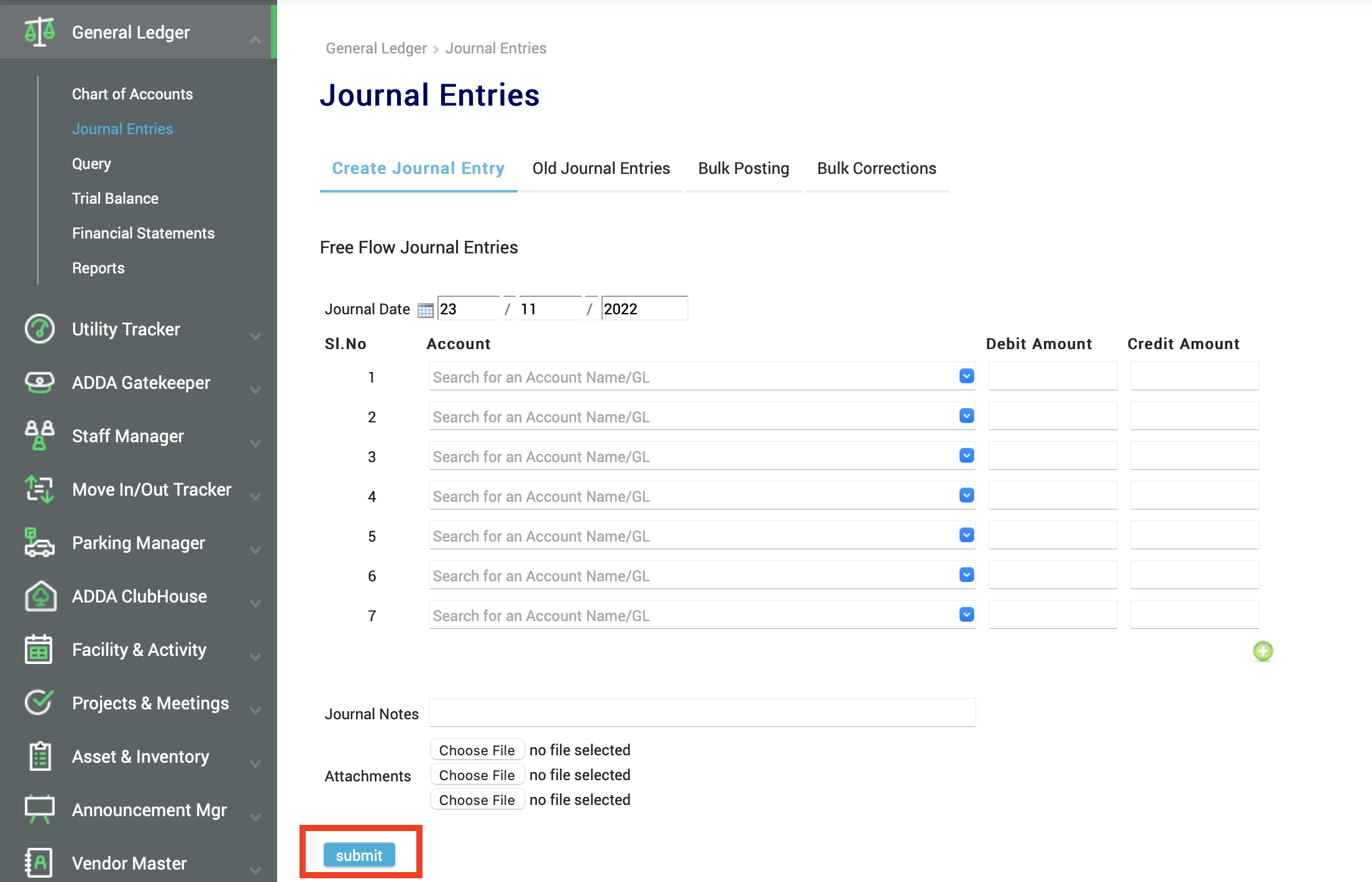 Related Articles

How to upload the journal entries in batch ?

Bulk upload can be done using an excel file: Step 1: Login to ADDA -->> Admin -->> General Ledger Step 2: Click on the "Journal Entries" Tab -->> Bulk Posting. Step 3: Click on "Batch Upload Journal Entries From Excel" Step 4: Download .csv File ...

How to pass a journal entry?

Journal entries can be used when setting up ADDA and when closing account books. Opening Balances can be added to ADDA by posting the Journal entries and other entries like Depreciations, provisions etc. can be updated through journal entries. Please ...

How to Check I have Paid intimation & Post Collection entries?

Below are the steps for verifying and posting the collection entries of I have Paid Intimations: Step 1: Go to Income Tracker -->> Member Income -->>Sub ledger Step 2: Click on "I have paid Intimations" at the right of the page (locate this option on ...

How to delete a Journal Entry?

Please follow the below steps to reverse Journal Entries: Step 1: Login to ADDA -->> Admin -->> General Ledger -->> Journal Entries. Step 2: Click on "Old Journal Entries". Note: Old journal entries will be shown on screen from the start date of the ...

What is the Journal Entry for Asset Depreciation?

Reduction in value of tangible fixed assets due to normal usage, wear and tear, new technology or unfavorable market conditions is called Depreciation. Journal entry for depreciation depends on whether the provision for depreciation/accumulated ...