How can I enable GST option for Adhoc Invoices?
The Ad-hoc invoices don't have the GST option enabled by default. However, if you want to enable GST for these invoices then please follow the below steps:
Login to ADDA ->> Admin ->> Income Tracker ->> Setup ->> GST ->> Enable the checkbox for "
Post GST to all adhoc bills raised" ->> Click on "Save".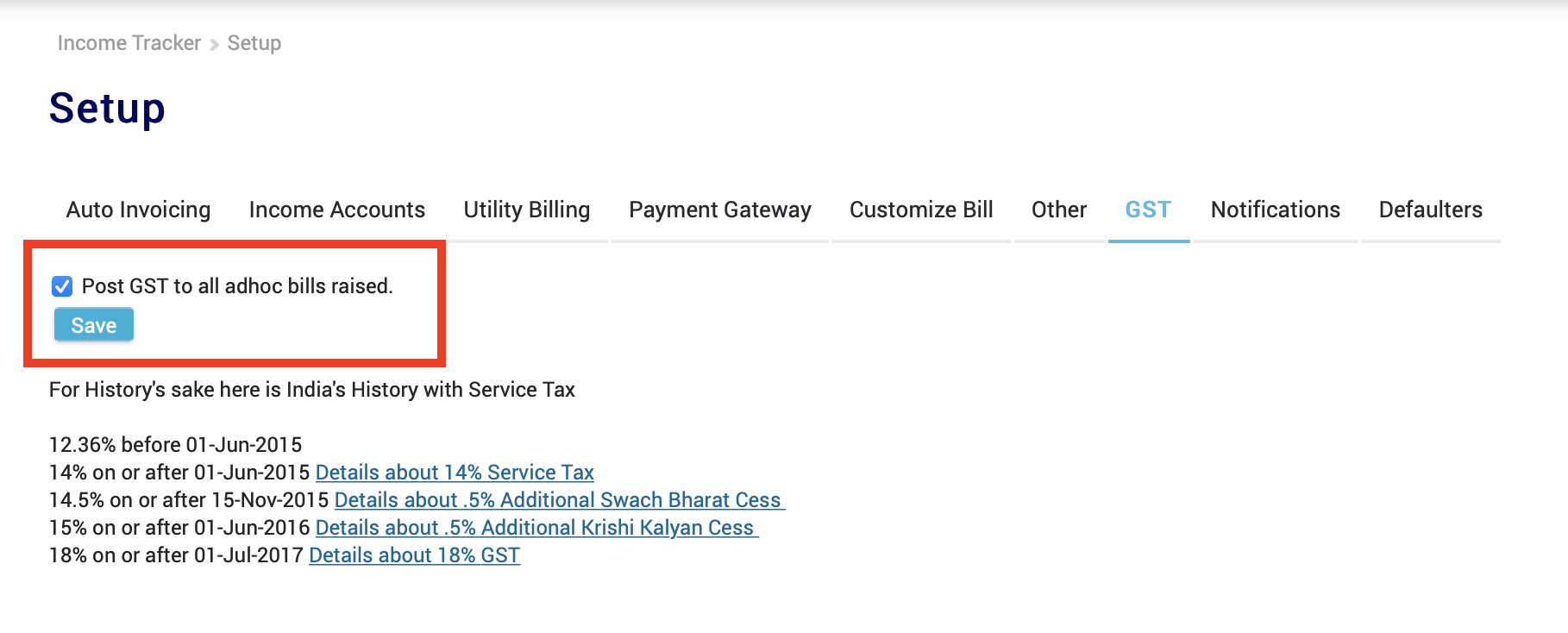 Related Articles

Rules to enable GST which is applied to the invoices in ADDA.

There are two rules to set up GST in ADDA for auto invoicing: 1.Eligibility : If checked GST will be applied only for the Flats whose Monthly Principal Amount exceeds ₹ 7500. For flats that have the Monthly Principal Amount below ₹ 7500, GST will ...

How to Enable GST for the applicability in the Invoicing Rule?

You can set up the GST to be charged for the line item to the invoices posted through Auto invoice generation by following the below steps: Step 1:Go to Income tracker>>Set up>>Auto invoicing>>Click on Edit Line item. Step 2:A new window will pop up ...

How to enable E-Invoicing feature on ADDA?

To ensure consistency, precision, and openness in the invoicing process within residential associations, the government has implemented e-invoicing regulations and guidelines. These regulations may necessitate associations to adhere to a standardized ...

How to generate invoices using 'Preview and Post Invoices'?

You can now generate bulk invoices as per the setup for any date of the month without having to fill any excel template. Please follow the steps below to generate invoices using this option. 1. Go to Income Tracker > Member Income > Bulk Posting. 2. ...

How can I post credit note with GST?

A Credit Note can be posted in case you want to offer an incentive to members or you might want to correct an incorrectly levied charge. If you wish to post Credit Note with GST you will be able to post it only as an Account Specific Credit Note. ...