How can I enable GST option for Adhoc Invoices?
The Ad-hoc invoices don't have the GST option enabled by default. However, if you want to enable GST for these invoices then please follow the below steps:
Login to ADDA ->> Admin ->> Income Tracker ->> Setup ->> GST ->> Enable the checkbox for "
Post GST to all adhoc bills raised" ->> Click on "Save".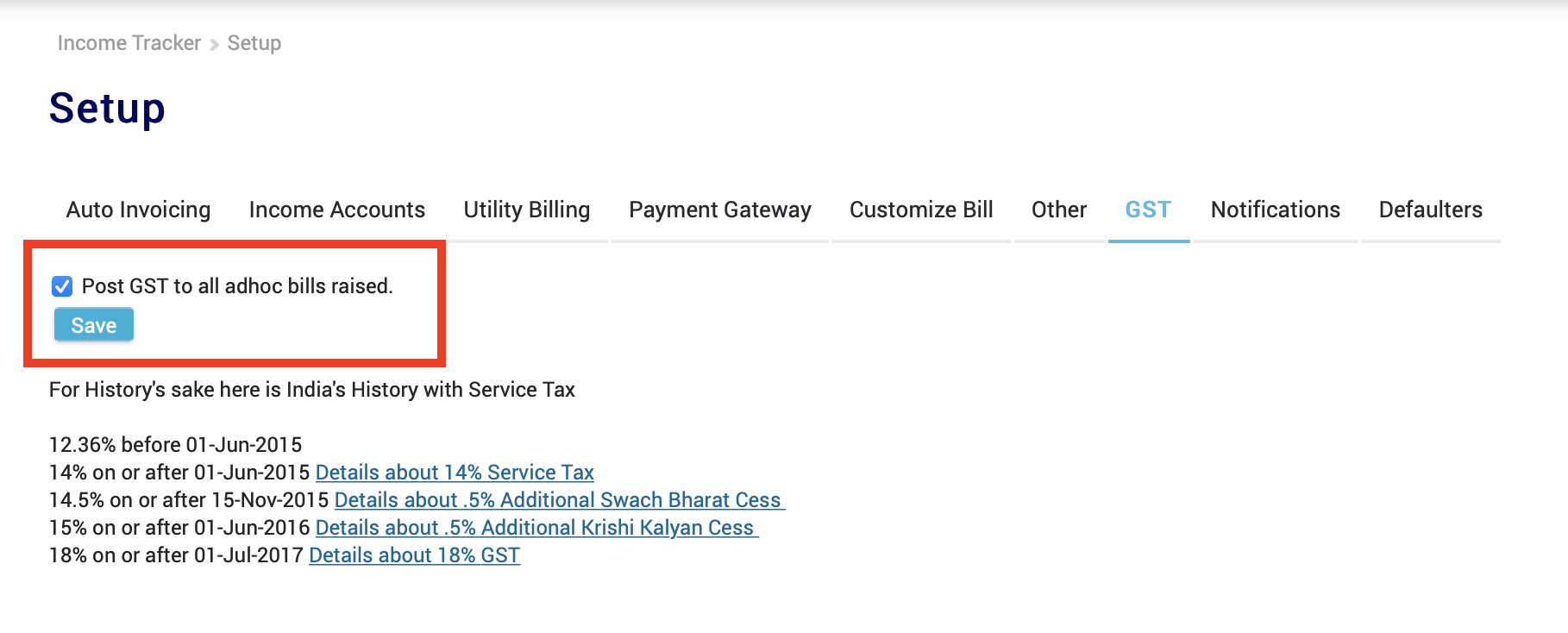 Related Articles

Rules to enable GST which is applied to the invoices in ADDA.

There are two rules to set up GST in ADDA for auto invoicing: 1.Eligibility : If checked GST will be applied only for the Flats whose Monthly Principal Amount exceeds ₹ 7500. For flats that have the Monthly Principal Amount below ₹ 7500, GST will ...

How to Enable GST for the applicability in the Invoicing Rule?

You can set up the GST to be charged for the line item to the invoices posted through Auto invoice generation by following the below steps: Step 1:Go to Income tracker>>Set up>>Auto invoicing>>Click on Edit Line item. Step 2:A new window will pop up ...

How to generate invoices using 'Preview and Post Invoices'?

You can now generate bulk invoices as per the setup for any date of the month without having to fill any excel template. Please follow the steps below to generate invoices using this option. 1. Go to Income Tracker > Member Income > Bulk Posting. 2. ...

How to enable or disable the Auto generation of Invoices?

Auto Invoice generation command can be controlled by admin, they can enable or disable as per the requirement. The following steps help the same: Step 1: Go to Admin Dashboard >> Income Tracker >> Member Income >> Bulk Posting>> Under section 'Post ...

How Can I Post Recurring Invoices?

Please follow the steps below to post recurring invoices: Step 1:Login to ADDA>>Admin>> Income Tracker >> Member Income. Step 2: Select the Unit you wish to post a recurring invoice >> Click on the "Invoice" Button. Step 3. Enter the amount, account, ...