How can admins receive email notification on any new Helpdesk Requests raised by the residents?
Helpdesk notifications can be received by the admin members, wherein they can keep a track of the status of tickets raised by the customers.
Follow the below steps to enable the Helpdesk notifications for Admins:
Step 1: Login to ADDA -->> Admin -->> Helpdesk Tracker -->> Setup.
Step 2: In the setup page, when you scroll down you will find the list of admins who has the access to the Helpdesk tracker, select the admin members by enabling the checkboxes against their names -->> Save Changes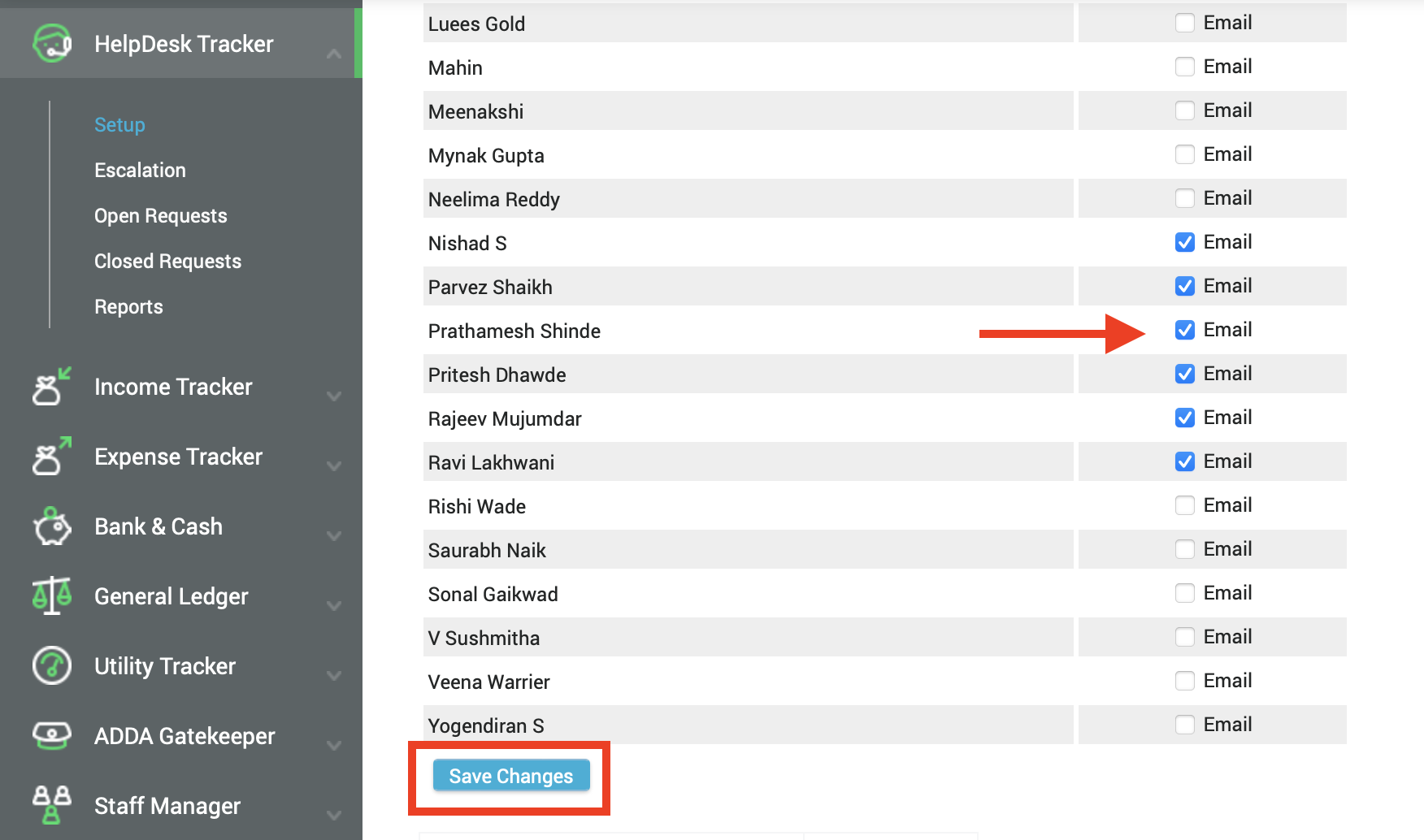 Related Articles

How can Admin Process Internal helpdesk Requests?

Please follow the below steps to process Helpdesk requests: Step 1: Login to ADDA -->> Admin -->> Helpdesk Tracker -->> Open Requests. Step 2: Click on the "View" option of the ticket that you wish to process. A separate window pops up, here you can ...

Is there an option for Admins to filter Helpdesk Requests?

Helpdesk Requests can be filtered based on ticket category, ticket status, unit number etc. Follow the below steps to filter open/closed Helpdesk Requests: Step 1: After Logging in, go to Admin -->> Helpdesk Tracker -->> Open Requests/Closed ...

How to set escalation for Helpdesk requests?

A Request can be auto-escalated to the person on the next level/Admin when no update happens to it within a certain time as set by your Admin. The minimum time in which a Complaint can be escalated is 1 day. Requests can't be escalated if there is no ...

ADDA's new Move In Workflow.

The New ADDA Move-In Workflow Move-In processes for Residential Communities often tend to become tedious, involving a lot of back and forth between Community Management teams and Owners/Tenants who are moving in. ADDA brings to you a new and improved ...

How can I view the closed Helpdesk Requests? Also, how can I reopen the request if it is still not resolved from the residents's end?

To view closed Helpdesk Tickets, please follow the steps below: Login to ADDA -->> Admin -->> Helpdesk Tracker -->> Closed Requests -->> Click on "view" to know more details about the closed request. To open a closed Helpdesk Request, Click on ...