How can Admin add users to ADDA?
Please follow the steps below to add users to your ADDA:
Step 1: Log in to ADDA, go to
Admin
>>
Units & Users
>>
Add Users
.
Step 2: Fill in all the information such as
Name, Block, Flat No., Mobile No., Intercom, Select the Membership Status & Email id.

Note: If users are added by office staff, the user will be listed under Unapproved users. You can approve the user from the Unapproved tab.
This is the official record of Owners and Tenants in the Community. Ensure that membership status is chosen correctly.

Step 3: Click on
Create user account
.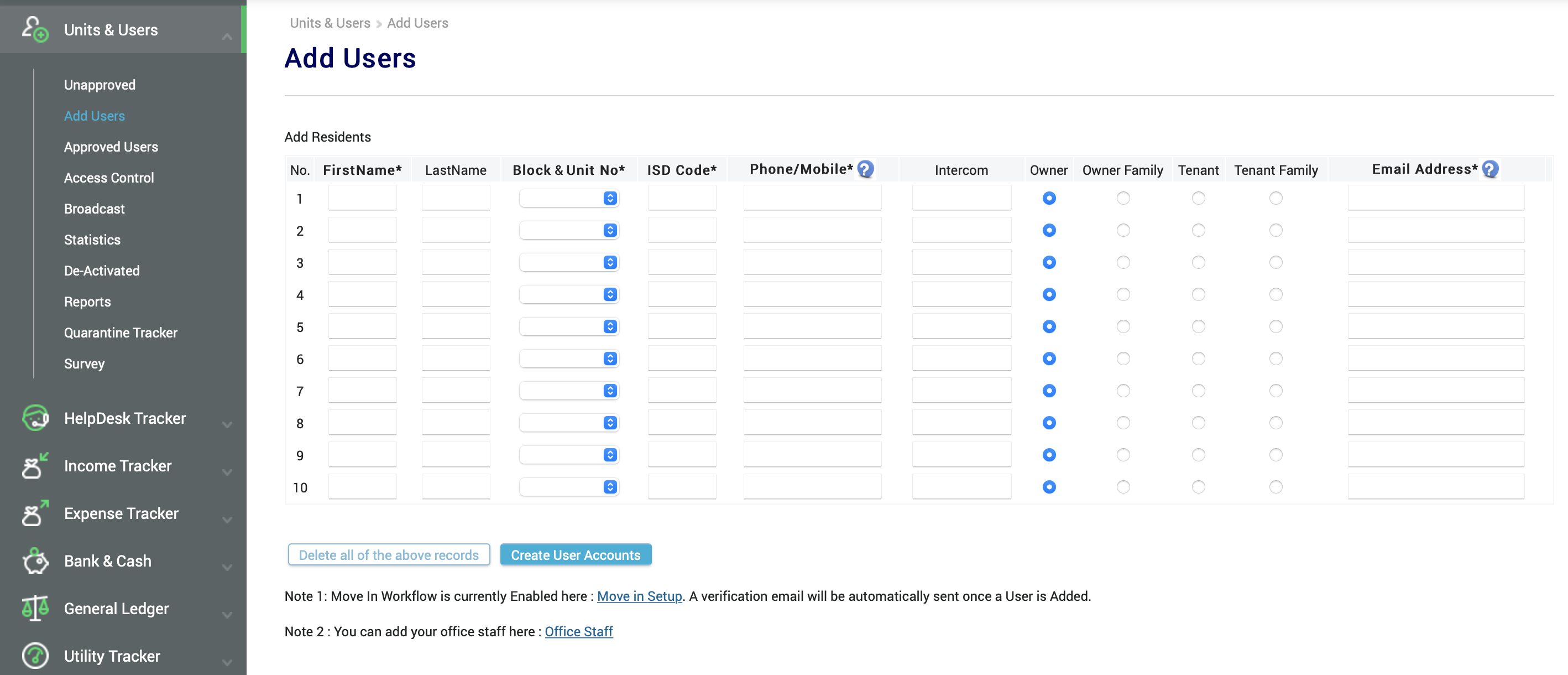 Step 4: The User added will be listed under
Units & Users>>Approved Users
Related Articles

How to add users in batch/bulk?

Please follow the below steps to add users in Bulk: Step 1: Log in to ADDA -->> Admin -->> Units & Users -->>Add Users, and download the excel template present under the Mass Upload section. Step 2: Fill the rows with resident information. (Note: Do ...

How can I add a user using the ADDA Admin App?

Login to ADDA Admin App -->> Users tab -->> Active -->> Click on the "+" sign to add users. There are two ways to add user using the App i.e Manually & From Phone Contacts: 1. To Add User Manually: Click on "Add Manually" -->>Enter all the user ...

How to Add/Edit Blocks in my ADDA?

To add more blocks, please follow the steps below: Step 1: Login to ADDA -->> Admin -->>Units & Users -->>Add users Step 2: Scroll down the page and click on the "Add More Block" option as shown below Step 3: A pop-up window will open, enter the new ...

How to add/remove users for My Groups?

If you are the Creator/Moderator of the SubGroup, you can add/remove users for the SubGroup! Step 1: After Logging in, go to My ADDA >> My Groups. You can see all the Groups listed. Step 2: For the Group you wish to ADD/Remove users, click on the ...

How can an Admin bulk invite users on ADDA? What are its benefits?

The "Bulk Invite" option will trigger an email to users who have not yet logged into your ADDA. The email will contain the email id and temporary password of the respective user to log in to ADDA. This option will help you increase the usage of the ...