How to get started with the Helpdesk Tracker?
HelpDesk Tracker is the Online Complaint Register of your Society. Here all the requests can be viewed and acted upon by the admin. Driver for each request can be assigned, status can be changed with relevant notes. Requests can be automatically escalated if it is not acted upon within a set time frame.
The HelpDesk Tracker comes with some default categories, so users can lodge HelpDesk Requests readily.
Step 1: Setup your HelpDesk Tracker:
Step 1: Login to ADDA -->>
Admin --
>>
HelpDesk Tracker --
>>
Setup
. Create the
HelpDesk Categories
that are relevant to your Apartment Community.
Step 2: For each
HelpDesk Category,
provide a
Category Owner Level1.
This is the User who will get an
Email/SMS
whenever a request of this category is lodged.

Note: Only those users who have access to Helpdesk Tracker module will be listed in the drop-down.
Step 3: Scroll to the bottom to setup
Notification
options and Save.
Step 2: Set up the Escalation Matrix:
Step 1: Login to ADDA -->>
Admin
-->>
HelpDesk Tracker--
>>
Escalation.
Step 2: Click "View" on the category, if you wish to do the escalation setup. A separate window pops up.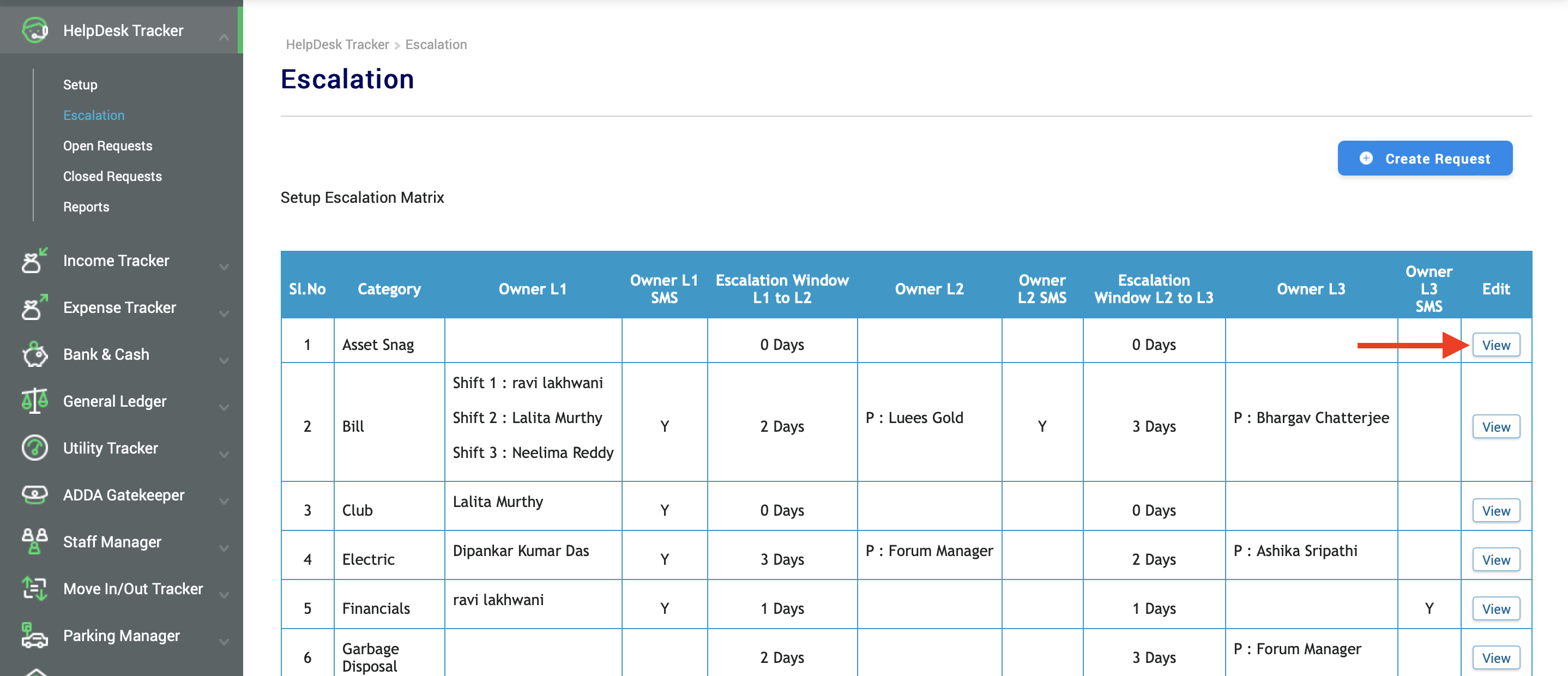 Step 3: Provide the
L1 Owners
, in Shift 1, Shift 2 & Shift 3 if staff or the admin is working on the requests during specific timings. Select the shift timings.
For Level 1, you have to select the relevant option between "Shift Owners, All L1 Owners, Don't send SMS" in
this category.
Step 4: Under
Escalation to Level 2
provides L2 owners. Two L2 owners can be selected. Mention the
No. of days
the request should be escalated. You can checkmark the option
Owner 2Send SMS?
This will trigger an Email/SMS escalation of the request at 9.30 AM.
Step 5: Same as in Step 3, you can set
Escalation to Level 3
and
Save
.
Step 6: Enable the "Send SMS" option for Level 2 and Level 3 Owners in case you wish to send SMS to those owner levels.
Now your Helpdesk Tracker is set and ready for the users to start lodging their complaints.
Related Articles

How can Admin Process Internal helpdesk Requests?

Please follow the below steps to process Helpdesk requests: Step 1: Login to ADDA -->> Admin -->> Helpdesk Tracker -->> Open Requests. Step 2: Click on the "View" option of the ticket that you wish to process. A separate window pops up, here you can ...

How to delete/modify helpdesk category?

You can simply over-write and delete the HelpDesk category name. It will no longer appear on the HelpDesk view. The Complaints lodged earlier with this Category will still show. You can either continue them as-is or change the Category. Step 1: Login ...

Who can view the Helpdesk requests lodged?

All Complaints that you lodge on your ADDA's HelpDesk will be visible to all members of your flat who are registered on your ADDA. The HelpDesk tracker shows the same information to all Users of a Unit. Note: If any update is done by admin, the ...

Is there an option for Admins to filter Helpdesk Requests?

Helpdesk Requests can be filtered based on ticket category, ticket status, unit number etc. Follow the below steps to filter open/closed Helpdesk Requests: Step 1: After Logging in, go to Admin -->> Helpdesk Tracker -->> Open Requests/Closed ...

How to set escalation for Helpdesk requests?

A Request can be auto-escalated to the person on the next level/Admin when no update happens to it within a certain time as set by your Admin. The minimum time in which a Complaint can be escalated is 1 day. Requests can't be escalated if there is no ...